First of all, there have been some people donating minerals to me, while i do apreciate the gesture i dont realy know what to do with them .. ok i could buy me a shiny glowing name or something .. uh whatever ;P
anyways, i'm doing this for fun not for the mon.. erhm minerals
so .. if anyone of the people sending me mins wants them back, just let me know.
now to the important part:
scmd mac development didnt go as fast as i expected, mainly due to lack of time. my RL changed and my free time went from having multiple hours every day to having only (a bit) time on weekends. cause of this situation i'm not giving any new ETA for the mac alpha, please be patient.
also to keep you updated on my progress i'll try to post a new screenshot at least once every two weeks.
here goes nr one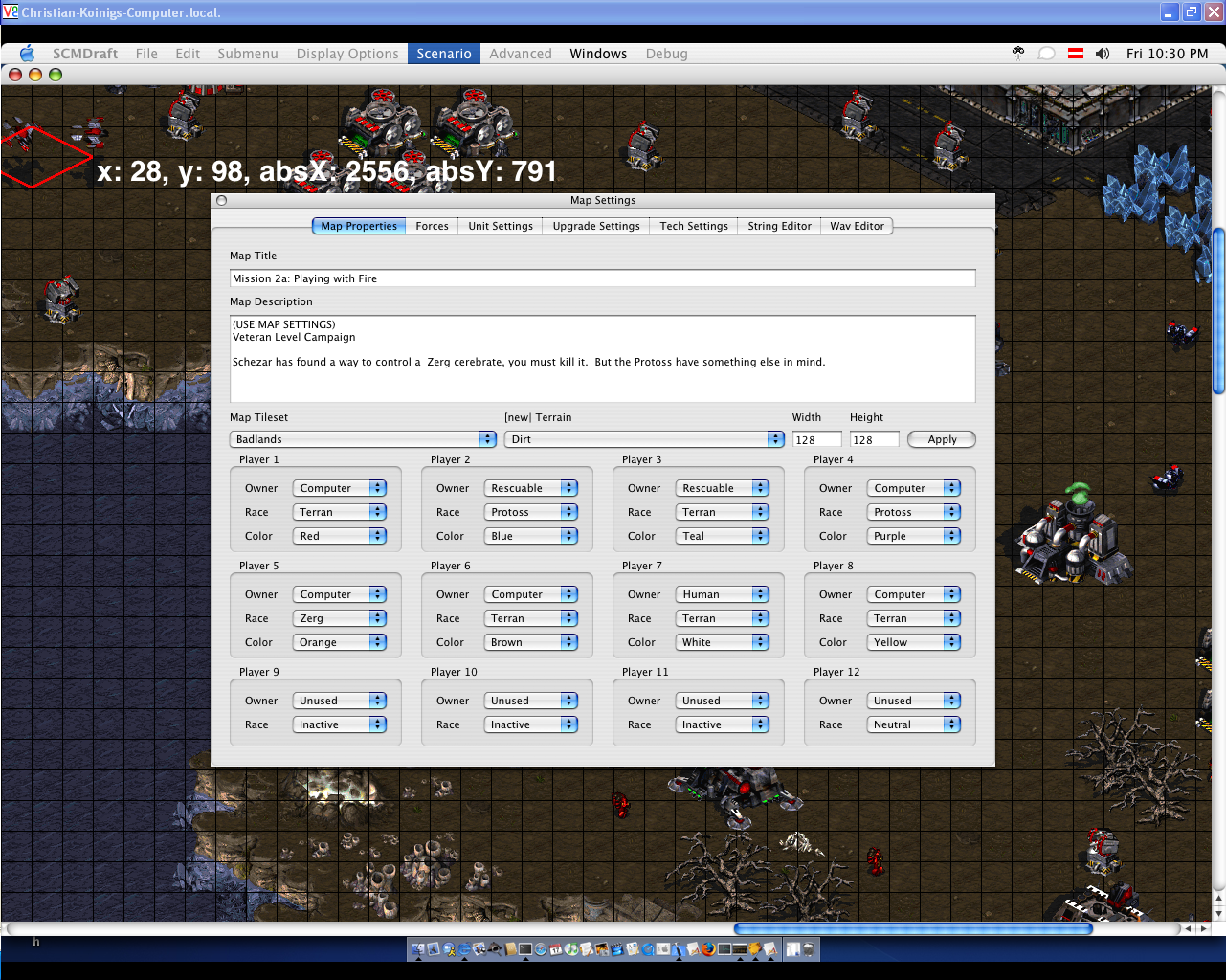 to sum up the state that mac scmd is in right now:
the full engine (that is all non gui / windows related code) is ported except for the save code (and maybe other things that i forgot).
the mpq code is ported but not yet fully tested on mac.
the map is displayed correctly but editing isn't implemented yet.
work on the various settings dialogs has begun.
support for having multiple maps opened at once is about 80% done.
the unit terrain etc. tree is not yet implemented
minimap code is ported, but the minimap window is not shown for several reasons currently.
the drawing code is rather slow when compared to the pc version. this will be improved once the basic editing functionality is implemented (that means after the first alpha)
for suggestions please visit the scmdraft 2 beta site, (SI will enable the mac suggestion list tomorrow or so)
http://scmdraft.stormcoast-fortress.net/?a...list=SCMDmacsug
. note that you will need to have an scmdraft beta site account to access that list.
well .. if you have any questions, feel free to ask.